2010 Holiday Marketing
The smart marketers are probably doing a number different things this year, but we believe segmentation will play a larger role than ever before. To help marketers with that, the Simmons Retail Shopper segmentation targeting system details six individual segments of shoppers that marketers need to consider: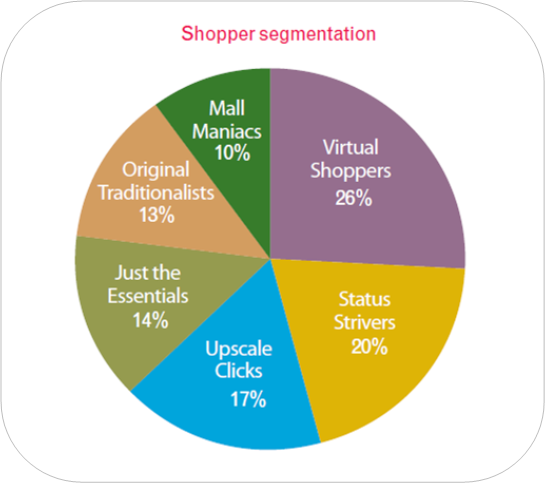 Virtual Shoppers: Twenty-six percent, the majority of this American consumer segment, go for the bargains and use the Internet to help find discounts. Interestingly, one of the Mosaic USA2 types that indexes the highest for this particular segment is America's Wealthiest.
Status Strivers: Twenty percent think that shopping is fun and recreational; they like to browse as much as buy, and they're willing to spend the money and time necessary to keep up with trends. In contrast to Virtual Shoppers, the Mosaic USA types that comprise this segment include several lower-income groups, revealing the aspirational nature of status striving.
Upscale Clicks: Seventeen percent of shoppers in America are knowledgeable consumers who buy either in-store or online, always carefully research purchases online first, and shop around and compare prices before buying. Several suburban and urban Mosaic USA types make a strong showing in this group.
Just the Essentials: Fourteen percent of Americans make up this group of consumers who primarily purchase necessities; they know what they want and are not impulsive shoppers. In contrast to Upscale Clicks, rural types make a strong showing for this segment.
Original Traditionalists: Thirteen percent are loyal to their brands, stores, services and country. They're knowledgeable, are the most environmentally responsible group, and incorporate green practices on a regular basis.
Mall Maniacs: Ten percent of shoppers in America are not just consumers; they're "try-sumers." They like to try new products, stores and styles and connect and interact with preferred brands, and shopping brings enjoyment to them. As revealed below in our ethnicity section, Hispanic Mosaic USA types index strongly for this segment.
Even though sales projections for this year's holiday season are modest at best, the consumer marketing machines may actually appear "noisier" than in years past as budget dollars are deployed in a much more concentrated, holistic way against only the best prospects for a brand.
For more information or help aligning your strategy and tactics, contact Applegate Media Group at 887.515.5557 or info@applegatemediagroup.com.
September 2, 2010 @ 11:47 pm
7 Comments