It has been a long-standing and fairly widespread notion among marketers that the difficult economy impacting sales would reverse itself with a vengeance once pent-up demand was liberated. The new survey released in July by Deloitte and the Harrison Group contains data that indicates the demand pool may not exist or, at least not with the intensity that marketers hope.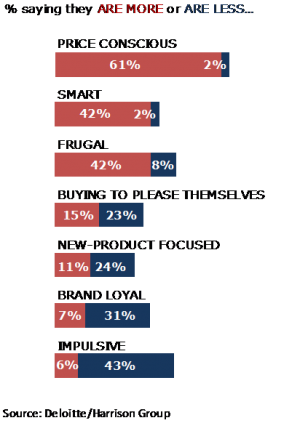 While recessions drive obvious responses such as 61 percent of respondents reporting more price consciousness and 42 percent being more frugal and smarter, 65 percent agreed with the statement, "Even though I am spending less on products now, it doesn't feel like I'm sacrificing that much." If that's not enough, 79 percent identified with the statement, "I feel a lot smarter now about the way I shop vs. two years ago." Some appear to thrive on the challenge of saving as evidenced by 81 percent of the respondents agreeing that "It's fun to see how much money I can save by using coupons or my shopper loyalty card."
When consumers feel this way, it dashes positive anticipation that shoppers will return to unrestrained spending habits once the economic recovery deems it is safe to do so. 44 percent of consumers in this survey agreed that "I can't believe how wasteful I used to be when I shopped."
Consumer attitudes toward private-label brands show that they don't feel they're settling for less by spending less since one third identified with the statement, "I often feel that I am sacrificing when I purchase a store brand instead of a national brand." The economy hasn't made people indifferent to brands but it has made them more discriminating as evidenced by the fact that seventy-five percent of those surveyed agreed that "Going through these economic times has caused me to realize which brands I care about and which ones are less important to me."
Rather than waiting for pent-up demand to break free, it's a great time for marketers to objectively assess their overall position in terms of the competitive landscape, brand positioning, loyalty programs and promotional offers to optimally place themselves for the more economically prosperous days that we all hope lie ahead.
For more information or help realigning your strategy and tactics, contact Applegate Media Group at 887.515.5557 or info@applegatemediagroup.com.